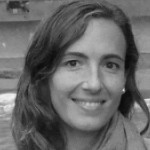 Carmen Ruiz de Almodóvar
Molecular and Cellular Mechanisms of the Neurovascular link

Groupleader: Carmen Ruiz de Almodóvar

NEWS
20.10.2017 -
Contratulations to Patricia Himmels who successfully defended her PhD thesis today!
11.10.2017
- Congratulations to our postdoc Andromachi Karakatsani for her accepted paper in Development!
30.09.2017
- Congratulations to Nathalie Tisch and Alexander Ellerkmann for wining the poster prize sponsored by the FEBS Journal at the ECDO 2017 meeting!
https://www.ecdo.eu/content/poster-prizes
18.09.2017 -
Check out the press release of our Dev Cell paper:
here
31.08.2017
- Our Dev Cell paper is now online!
Check it out:
http://www.cell.com/developmental-cell/fulltext/S1534-5807(17)30630-5
02.08.2017
-
Our paper describing how YAP/TAZ regulate VEGF signaling and developmental angiogenesis just got accepted in Developmental Cell!! - Congratulations to all the lab and specially to Xhiaohong Wang for such a nice work! - Online soon
12.06.2017
- Check
here
the 5 minutes talk on the Cell Networks Heidelberg Life Sciences event - Celebrating 10 years of ERC
18.04.2017
- Welcome to Sara Lobato Moreno, a lab-rotation student from the Master of Neuroscience!
01.04.2017
- We welcome Alexander Ellerkmann, a medical student who will do his MD thesis in our lab!
06.03.2017
- Our Nat Commun paper is online! Check it out:
http://rdcu.be/pRfc
13.01.2017
- Our paper describing how motor neurons control spinal vascularization just got accepted in Nature Communications!! - Congratulations to all the lab and specially to Patricia Himmels! - Online soon
26.10.2016
- Already looking forward to next year's SFB/TR23 meeting:
From Vascular differentiation and remodeling to Organotypic Vasculature -
www.transregio23.de
01.08.2016
- We are happy to welcome Melanie Richter as a new laboratory technician